When it comes to barbecue, there are many different styles to consider. Today, we are going to focus on the differences between St. Louis BBQ and Kansas City BBQ. You wouldn't think barbecue could be so different and provide such a different experience, but it does!
St. Louis Barbecue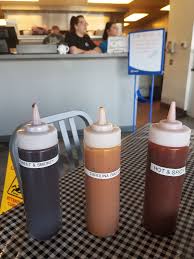 St. Louis BBQ is often compared to Kansas City BBQ because the sauces share some similarities, but they're different enough for people to know the difference when they eat them. The St. Louis barbecue sauce is a bit thinner because it contains vinegar, which also makes the sauce less sweet. This barbecue style is characterized by a sweet-and-sour flavor with a bit of spice.
The sauce is often tomato-based and because it doesn't contain much sugar, it can be used to cook the meat without causing the sauce to burn. St. Louis barbecue ribs have a unique cut, which is known as St. Louis-style, which is meatier since the rib tops, cartilage, and sternum bone are removed.
If you're looking for a good barbecue restaurant in St. Louis to give this BBQ style a try, Sharpshooters Pit and Grill has some of the best barbecue in town. They're located inside the St. Louis SharpShooter shooting range and they offer barbecue ribs, brisket, smoked turkey, and many other mouth-watering options on the menu that will give you a taste of the St. Louis flavor people know and love.
Kansas City Barbecue
When you think of BBQ sauce, you're thinking of the Kansas City style. This sauce is tangy, sweet, thick, a bit spicy, and delicious. It contains many ingredients, but it's tomato or ketchup-based and brown sugar or molasses are a must as a sweetener. This is the main difference between the St. Louis sauce and the Kansas City sauce; the latter has a high sugar content so it can burn easily.
Kansas City is where barbecue was born, which is why this is the traditional barbecue sauce. Kansas City BBQ is known for using a variety of meats, so they don't only stick to pork. They also use beef, turkey, lamb, chicken, sauces, and even fish on certain occasions. If it's meat, it can be barbecued.
You can recognize a rack of Kansas City-style barbecue ribs by the burnt ends and the meat is crusty and fatty, not to mention super flavorful. The meat is slow-smoked with different kinds of woods and this BBQ style is also known for the variety of side dishes that often accompany the meat.
Final Words
St. Louis BBQ and Kansas City BBQ are very different but they're both delicious and they're definitely worth a taste. If you're in the mood for St. Louis-style barbecue, Sharpshooters Pit and Grill is the place to go and you'll enjoy every bite. Their menu is so varied and everything is so fresh and delicious that you'll have to go more than once to discover everything they have to offer.