Sharpshooter Pit & Grill: Barbecue Meets Bullets at St. Louis' Largest Indoor Shooting Range.
The smoked brisket sandwich at Sharpshooter Pit and Grill. | Photos by Mabel Suen
Business owner Keith Brooks' family pawn shop, Southside Jewelry and Loan, holds a senior spot in south county along a stretch of Gravois Road. For 21 years, the combination jewelry, gun and goods shop has occupied a sizable storefront in Affton. To expand his multipurpose empire, Brooks purchased the adjacent property — a former coin car wash. In August 2013 Sharpshooter Pit and Grill (8135 Gravois Road; 314-353-4745) opened to the public featuring a barbecue restaurant connected to the region's largest indoor shooting range.
At Sharpshooter, Brooks aims to offer a sporting experience loaded with creature comforts. Patrons can chow on daily smoked meats in the restaurant while checking out closed-circuit television of shooters taking target practice next door. The range itself features twenty lanes, a state-of-the-art air-filtration system, and classrooms offering training courses for both hobbyists and security professionals.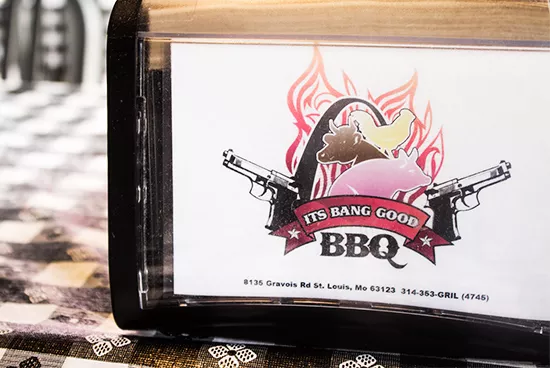 Mark Laplant, formerly of Lumiere Place, manages the restaurant where meats get smoked daily and are offered until they sell out. Choose from smoked wings, nachos and salads topped with your choice of meat, sandwiches, and plates — pulled pork, beef brisket, smoked turkey and ribs. Sides include standard baked beans, coleslaw, potato salad, green beans, applesauce and fries, and the menu also features malts, shakes and sundaes for dessert.
"We've been flattered with the support of Affton and people in the neighboring communities. It's a wonderful situation," says Brooks. "We've gotten a lot of national attention through shooting-sports foundations about bringing a new face to sports shooting — making it more of a destination point rather than an old boys' network."
Staff at the shooting range.
Sharpshooter offers day passes for its lanes as well as restaurant coupons for range customers. Sharpshooter Pit and Grill's current hours are Tuesday through Saturday from 11 a.m. to 8 p.m. and Sunday from 12 p.m. to 5 p.m. For the full menu, prices and more information, visit the Sharpshooter Pit and Grill website or follow it on Facebook.
Click through for more photos.